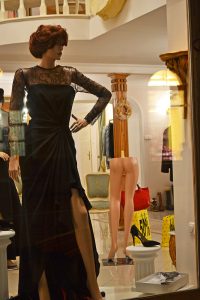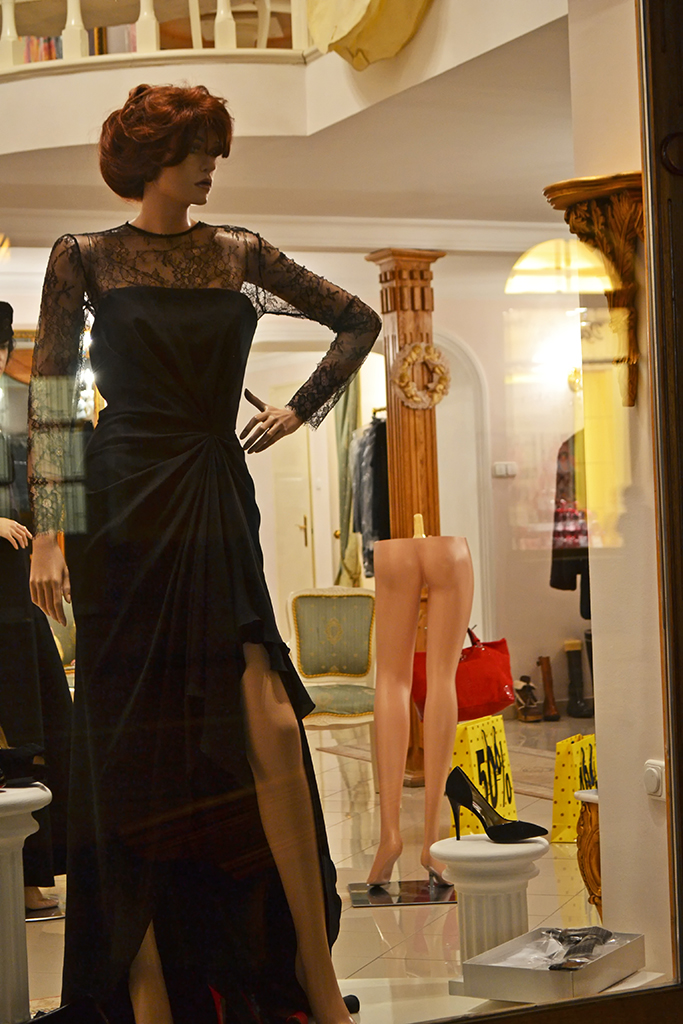 This series started off in Szeged, Hungary. A fellow-student and I took a walk in the evening. I spotted a store window in which, a mannequin stood in contrapposto, her left hand unnaturally far from the hip, as if some invisible force stressed her arm out- and backwards. Behind her, in the well lit store, other mannequins stood, including one missing not only any clothes but also the upper half of her body.
The long black dress the mannequin in the front was wearing, with the whipped up, slit skirt and the lacy tulle arms and shoulders, radiated a kind of coquettish elegance. All that stood in a peculiar, disheveled harmony with the store interior, the beige walls and marble floor, the hazel pillarets and the caesious color of the golden-rimmed cushion and backrest of the chair in the background. A little bit overemphasized moderation that, in a way, gets mocked by the mahogany red wig, the hot red color of the bag and the flesh-colored limbs of the mannequins, as these forms and colours seem to uncover the concupiscent nature of reality, denouncing all mannerism. In this cheeky backchat, the half-mannequin deserves some special attention. With no torso, the bottom becomes all too important, it saves poor legs from losing all support. The plate denoting an 50% discount brings an element of humour into the picture. From this viewpoint, the objects arranged this way inside, it is not immediately clear which item is sold at half the original price. Maybe the half-doll, as it is a half. Maybe the shoe, as it is exactly the half of a pair. Or maybe the collection consisting of one bag, one shoe and a half doll.
An elegant store interior the photo of which, resulting from the circumstances, gains a bizarre aspect. But, to me, this picture means more than that. I haven't posted the original pic so far, as it is far from being perfect. In lack of a tripod that night, the shot was taken hand-held which resulted in imperfect focus and clearly recognizable color noise. However, I experimented a lot with this image later, while contemplating the roles these often primitive, yet more and more sophisticated replicas have played throughout our culture. Our bonding with these creatures went so far that in our fantasies, we have vivified them, we have assigned human characteristics, emotions and intentions, human-like, either innocent or malevolent souls to them. We have attached stories to them. The latter is what I am doing when working on this image series.
[envira-gallery id="99674″]